| | |
| --- | --- |
| | |
| | |

Just a FYI...if your tribute/candle isn't posted right away it is because I haven't recieved an e-mail indicating a new tribute/candle has been posted...I do still check the site regardless so it WILL show up....just may not be within a day since the site no longer e-mails me to let me know a new tribute/candle has been posted. THANKS for the continued remembrance of Spence....and support of our Military!!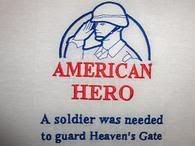 I would like to say thanks for visiting the memorial site for Sgt. Spencer Akers. You may be a family member, friend, past co-worker or just a passerby...please feel free to light a candle or post a tribute as every thankful american can show their graditude on this page...you didn't need to know Spence personally. I would also like to say that whether or not you agree with the war or what your personal feelings may be about it...we have tens of thousands of mothers, fathers, brothers, sisters, sons, daughters, husbands, wives, moms, dads, aunts and uncles that are selflessly serving our country so that you are free to feel and/or express your opinions outright here in our homeland. You don't need to support the war or the agree with the reasons that we have out troops over there to still be thankful that our military is awesome and ready to protect and defend us in a minutes notice. As you are reading this there is probably a new baby being born to a soldier in Iraq...a mother missing her children, a wife worried sick about her husband...and so on. We here in the US need to support these fine individuals regardless of if we think that we should or should not have our troops in Iraq. One of the outstanding things about our military and those serving in war zones and around the world is that being called to active duty is voluntarily. Not one person serving in Iraq was sent there as a result of a draft...they all signed up for the position. To me, the only people whose opinion count in whether the war is good or bad are those serving on the front lines. I have read countless stories of soldiers that not only are glad they got to be part of liberating a country and would do it all over again if asked. The media is biased to what really happens in Iraq...they report the deaths, the killing, the things that cause us here at home to think the war is sensless. They don't report on the positive things happening, that a unit has rebuilt a hospital, a school a community that can sleep peacefully at night. To make a long story short and get to my point here....we need to support our troops no matter what. We need be there for the ones serving in Iraq despite our personal feelings on the war. Below is the link to a website that you can help support our military. Please take a minute and check it out. If nothing else...a card saying thanks would mean the world to these fine men and women.

www.anysoldier.com

"A soldier in Iraq can't see your ribbon,
Or the flag at your front door.
But a letter they hold in their hands,
To them means so much more."
Supporter Liam Sweeny





Please take a minute to view a MySpace site dedicated to remembering the fallen at:

http://profile.myspace.com/index.cfm?fuseaction=user.viewprofile&friendid=12256695

You can view Spence's MySpace site at:

http://profile.myspace.com/index.cfm?fuseaction=user.viewprofile&friendID=18363574




The convoy was returning to base, four Humvees loaded with Michigan soldiers, heading back from patrol on Nov. 21, 2005. The bomb was hidden under a dirt road about 750 yards from the Euphrates River in Habbaniyah, Iraq.

The first three Humvees passed over the bomb and nothing happened. The target was the fourth.

Sgt. Joshua Youmans, 26, of Flushing Township was behind the wheel. His wife, Katie, had just given birth to their first child, MacKenzie. Youmans used to babysit from Iraq, watching his daughter on a Web cam. "Maybe, she's hungry?" he wrote in an instant message. "I just fed her," Katie wrote back.

Sgt. Matthew Webber, 23, of Stanwood sat in the passenger seat. He was the kind of guy who squeezed every moment out of life -- he went to college, worked 30 hours a week at an electronics store and still had time to party like a rock star, according to his stepfather, Vince Hardy.

Spec. John Dearing, 21, of Hazel Park was the gunner. He was armed with a .50-caliber in the turret. He had been married to Amanda for five months. They met at a tattoo party and got married before he left for Iraq. He kept his head low because of snipers. Just high enough to see what was going on but not exposed.

Sgt. Spencer Akers, 35, of Traverse City was the rifleman in the backseat. After 9/11, he volunteered to go to Iraq and searched for a unit that was going to be active. He was about to come home on leave and buy a house in Traverse City.

Sgt. Duane Dreasky, 31, of Novi was the forward observer. He always wanted to be a soldier. When he was a kid, he dressed up in fatigues and played in a field with a BB gun.

When the Humvee passed over the bomb, there was a tremendous explosion, rupturing the fuel tank. Fire engulfed the Humvee, flames shooting up from the floor.

Lt. Obie Yordy was in the second Humvee. "I remember everything," Yordy said. "I can't get it out of my head."

Yordy, who is trained in combat lifesaving, jumped out of his Humvee with his medical bag. He ran to the burning truck. On one side was a dirt hill. On the other was a ditch.

"It was an extremely intense fire," he said. "The guys got out of the truck incredibly fast and still sustained tremendous injuries."

Youmans was in the ditch, about 6 feet from the burning Humvee.

"I'm here," Yordy told Youmans. "You are gonna be all right."

Youmans stopped screaming.

The five soldiers were members of the Army National Guard, Company B, 1st Battalion, 125th Infantry Regiment, out of Saginaw. It was an infantry company, doing combat missions in one of the most deadly areas in Iraq.

Capt. Anthony Dennis, the highest-ranking officer on the convoy, tried to comfort Akers.

"The enemy does not have you," Dennis said. "The enemy does not have you."

Dearing died instantly.

The other four ended up at a burn unit at Brooke Army Medical Center in Ft. Sam Houston, Texas, where they fought to live -- one for weeks, three for months -- enduring excruciating pain and countless ups and downs.

Akers died Dec. 8.

Youmans died March 1.

Webber died April 27.

And Dreasky died July 10.

"The scene replays in my head," Dennis said. "They were screaming in excruciating pain. That's probably one of the biggest memories I have of it, right there, the screaming."



My Uncle Spencer
By Jordan Robertson - Nephew

I remember my uncle Spencer
I wonder if I will see him in Heaven
I see him in my sleep
I want him to come back

I remember my uncle Spencer
I pretend he is still alive
I feel very sad
I touch his equipment
I worry I won't see him in Heaven
I cry when I think of him

I remember my uncle Spencer
I understand why he fought for his country
I say to my mom it's ok when she is sad
I hope my family will cheer up
I remember my uncle Spencer


Speech given by Sgt Matthew Mayer at the dedication on memorial monument on October 7, 2006

Don and Carole Akers, Randy and Jeannine Robertson, family of Sgt. Spencer Akers, distinguished guests and friends, welcome and thank you for coming to the dedication of this wonderful monument and thank you for your support and donations to make this memorial possible.

My name is Sgt. Matthew Mayer and I had the privilege of living and serving for the past four years with the man we are here to memorialize today. By now you have all heard stories of this man, his sense of humor, friendship, knowledge of life, good looks, or so he would say and so many more that I could go on all day, we all know this man as Spencer Akers, but I also knew him as a different title, Sgt. Spencer Akers. So today I will tell you stories, not of all of those wonderful traits but some of his other traits that you may not heard much about, leadership, patriotism, bravery and heroism.

Gen. Dwight Eisenhower once said, "Leadership is the art of getting someone else to do something you want done because he wants to do it." Sgt. Akers had an inspiring way of leading, I would know. I had the privilege of being molded into the soldier and Non Commissioned Officer I am today by Sgt. Akers. I know that without his influence I would not have achieved what I have in the military. Those of you who also knew him on the military side know exactly what I am talking about. I remember working on a deployment to the Detroit border crossing. Nobody wanted to be out there in the heat or cold checking carsas they pass through an immigration check point, but he made it fun, we could of just stood there and watched the immigration agent check paper work but he wouldn't allow that. He told the immigration agent that his guys were going to check all trunks and visually inspect the outside of every car. He made those days fun.

The main job of a sergeant in the Army is to train fellow soldiers, because a famous saying among Army Sergeants is, "Let no soldiers cry out, had I the proper training." I know that none of the souls of the men under Spencer's leadership are crying out today. Instead they are up in Heaven, standing tall in formation, waiting to salute the next hero that arrives and gives them their place in the squad.

I don't know of too many people who would be willing to volunteer for duty in the front lines in the middle of a war torn desert knowing all in well that they will be staring death in the eyes. Sgt. Akers was willing to do just that and when death stared him in the eyes, he stared right back. That was how brave he was. There was nothing in this world that he wouldn't do for his country. He was truly a patriot.

We are free today because of people like Sgt. Akers. Someone once said, "This will remain the land of the free, as long as it is the home of the brave." From the revolution to today's fight against terrorism, we owe our freedom to all who have fell and all who have served in the wars of the past.

There isn't one person in America today that the song, "American Soldier" by Toby Keith hasn't touched. There is a reason why that song was one of Spencer's favorites, because it accurately describes what it's like to be an American Soldier. It isn't a nine to five job where you take your tie off at the end of the day. It's a job where you get dirty, you go hours without sleep, sometimes days without a hot shower. It truly is a one of a kind career, and that is why he loved it. He accomplished so much in his shortened career, from fighting in wars to jumping out of airplanes and everything in between. He had a story for everything. To quote Toby Keith in his song, "I don't wanna die for you but if dying asked me, I'll bear that cross with honor beause freedom don't come free." We must remember the price of freedom and those who paid that price so we can enjoy the freedoms which we enjoy today.

Sgt. Akers was proud of the uniform he wore and the country he served. He instilled this sense of pride into me. I can't help but feel humble everyday I put on my uniform knowing that many good men and women who have served before me have dawn the same uniform and stood proud in their last moments. He was proud to be a veteran of the first Gulf War and didn't hesitate to have the chance to be a veteran of this war, but on that fateful day in December he became more then a veteran, he became a Hero. Hero is defined as a person noted for feats of courage or nobility of purpose, especially one who has risked or sacrificed his or her own life. I can't think of a better definition of Sgt. Akers' life than that. All of us would love to die doing something we truly loved, Sgt. Akers did just that. He lived to be a soldier and sacrificed everything for that cause.

As we leave here today, I want to invite everyine to visit this memorial often. This memorial is a place to honor not just the service of Sgt. Akers but the service of all the fallen, it is a place of comfort for all who have lost someone special in the defense of this great nation, but most of all it is a beacon of light, a reminder that as long as there are people like Sgt. Akers the enemies of the United States are not safe, a reminder that people like Sgt. Akers will be there to defend the freedoms which we enjoy. Although there are no official lyrics for Taps, the 24 note final tribute given to departed service members, the lyrics often used end with, "Then goodnight, peaceful night, till the light of the dawn shineth bright; God is near, do not fear friend, goodnight." So goodnight Spence, John, Josh, Matt, Duane, Dane, Tim and all the heroes of this war. This memorial is for you. May God bless you all and the fighting forces of this country. Thank you.




After Sgt. Spencer Akers died from injuries suffered in Iraq, hundreds of tributes were posted online.

"May God bless your family in their time of grief. My wife died in the World Trade Center and I feel a loss every time I hear of a brave soldier losing their life to protect mine and my sons." -- Chris (NY)

After the 9/11 attacks, Akers decided to rejoin the military. He had also volunteered to serve in the first gulf war.

"Sept. 11 was not an attack on his country, it was an attack on his family," said his sister, Jeannine Robertson.

Akers, who was single, looked for a unit that was going to be active in Iraq.

"He said, 'If I can take the place of a married man or a man with children, I'm gonna do it,' " Robertson said. "For months, he looked for a unit. He said, 'I'm not going to go over there and twiddle my thumbs and peel potatoes. I'm going to go and be on the front lines.' "

"Hey man. ... I wear a bracelet with your name on it now, and when people ask me about it, I tell them it was my sergeant and my friend, who gave his life for freedom. When my daughter can talk, I'll tell her that you were one of the best men and soldiers I ever had the honor to meet. Sherri and I are going to try to have another baby, and I hope it's a boy, because we both agree that his name should be Spencer." -- Jamison Yager (BattleBuddy)

After the explosion Nov. 21, Akers was helped out of the burning Humvee.

He was planning to return to Traverse City on leave that Friday, to buy a house on the outskirts of town.

"He was wide awake," said his father, Don Akers. "They told him, 'We are taking care of you, Spence. You are with us. You are not in enemy hands.'

"As far as I know, that was his last conscious moment. They put him under. They kept him pretty well sedated and on morphine."

Akers suffered burns over 75% of his body, including most of his face and head. He had a broken arm, elbow, hip, knee, wrist and hand. "Basically, his right side was crushed," Don Akers said.

His sister said, "When he got to the hospital, they rate the burns from 1 to 9, with 9 being the worst. And he was 9-plus. Some of his bones were burned."

"Rest in peace soldier, I thank you for what you have done for all of us." -- Terry Elkins (Rochester Hills)

Don and Carol Akers learned on the phone about the explosion.

Don Akers, 68, is a retired builder and maintenance supervisor. Carol, 70, is a retired nurse. They live in Tustin. They had two children -- Spencer and Jeannine, 41, who lives north of Toronto.

"Deep down, almost from the beginning, it's like I knew he wasn't going to make it," Carol Akers said. "Only a mother could describe it. A feeling deep down in the pit of your stomach that's not good."

Doctors weren't sure if he would survive the trip to a burn unit in Texas. Akers had more than 20 surgeries and 100 blood transfusions.

"When you go into the hospital," Robertson said, "there is a sign that says 'Big Burns.' It means, huge burns. Big burns. That's the unit all our boys were in. You know, when you are going down there, it's serious business."

Akers never regained consciousness. He developed a deadly fungus on his face.

Robertson didn't want to look at him. She sat down in the doorway, with her back turned, to say good-bye.

"I only got to see him 15 minutes," she said. "We dropped off our luggage and went to the hospital. I only had 15 minutes. I met the chaplain. The doctors were waiting. They said, 'It's near, you need to get in there.'

"I didn't know what I was walking into. What do you say? I would not look."

After he died, Carol Akers prayed, asking God to remove the horrible images from her memory.

"I do think about it from time to time, but it really has blurred the edges," Carol said.

"May all of those wonderful young men know how much they are loved and missed. They have paid the ultimate price so that they rest of us could continue to enjoy the freedoms we have." -- Yolanda Lyons (Barryton, MI )

The Akers family has developed close ties to several families who lost loved ones in the attack.

"Katie is like another daughter," Carol Akers said of Katie Youmans, widow of Joshua Youmans. "She fits in our family. She loves our daughter and her kids and she's like another daughter. I could tell her anything."

The families get together and try to help each other, often confiding their darkest secrets.

"One of the family members who lost a soldier is dealing with being mad at God, hating God and blaming God for everything," Carol Akers said. "I said, be careful, you are taking on a pretty big foe there."

She said her own faith was tested, "but only briefly. That's been my strength throughout my life. Where else can you go?"

Spencer's death tested the couple's marriage.

"Sometimes it was a strain," Don Akers said.

Carol Akers laughed: "Sometimes, it was a wedge."

But they have come out the other side, determined to stay together.

"We had so many ups and downs, it's not funny," Don Akers said.

Carol is thankful that he died quickly, compared with the other soldiers.

The Akerses were hopeful that one of the soldiers would survive, so they could find out what happened.

"We held out the hope we would get the chance to talk to a survivor," Don Akers said. "When we got news that they had Matt Webber up and they were giving him showers, they were taking him out to the sundeck, we were holding out hope that we could get a chance to talk to him and try to find out some personal stuff in his part in the team, how it operated."

But as each one died, the hope did, too.

"It's a very sinking feeling," Robertson said. "You lose Spence and then Josh. The fear level is huge."

"Dear Spencer ... It's been a month now and I still wake up at night and see the flag on your coffin. The hole that you have left in my life is so huge that sometimes I can't believe that I could miss someone so much." -- Jeannine (brat-sister) Robertson

Robertson takes comfort, knowing that her brother didn't know the extent of his injuries. He didn't have to endure the mental anguish.

"He didn't have the days and months of laying there, thinking, 'I have no face. I have no nose. I have no ears. How am I gonna live my life?' " she said. "Talk about suffering. That would be indescribable."

"I used to work with Spence up at the Sands Casino. He could make just about everyone laugh. Thank you for what you have done for our country. We salute you." -- Wendy Manville (Cabinaw) (Kingsley, MI)

Spencer was 6 feet tall and a trim 210 pounds. He was handsome, with dark hair and dark brown eyes.

He was a sports fanatic who loved fantasy football and paintball.

Akers worked as the head of security at a Traverse City bar. He was a computer whiz who also worked at an electronics store.

"He's over there in Iraq, sitting in a bunker and he's telling Don how to hook up his computer," Carol Akers said. "I'm not kidding."

"Spencer, you will always be remembered as a hero and a person with great love for life ... peace out dirty desert dog." -- Sgt Ray G. Flores (Rohnert Park, CA)

Don Akers wears his son's T-shirts and shorts when he's working around the house or goes golfing with his wife. And that helps somehow, makes him feel closer to his only son.

The Akerses still get mail from strangers who offer support and prayers. "Sometimes, we would sit there and say, are you going to get the mail or am I?" Carol said. "We got to the point where we didn't want to go to the mailbox."

"We have probably more than a bushel of mail, from all over the world," Don Akers said. "It reinforces us to know there are other people who believe in these things the same way we do. Even though they can't totally imagine what the loss is, they know what loss is."

When you type Spencer Akers name into a Google search, it comes back with 287,000 hits. Not all are related to this fallen soldier, but there are so many memorial sites and he's linked to so many sites that it's almost countless.

"I don't read them," Carol Akers said. "I read some of them at first, and I thought, OK, why are you doing this? You are having a pretty good day until you do this, and stop it."

But the story of Spencer Akers lives through the Internet.

"Hi there," Akers wrote on his Web page. "Well, about me, I love sports and to cook. I love motorcycles. I work as a bouncer at a club called Streeters. I also go to school ... send pics. I love mail and love pics to hang up. And remember why I volunteered for this."

On Aug. 16, 2005, Akers posted a message, announcing that a soldier had died in Iraq.

"I lost a friend today," Akers wrote. "And the world lost a great person. So if you folks would give a moment of silence today for him. Please, remember: Freedom is not free."





May I go now?
I have fought a good fight,
I have finished my race and you kept the faith.
I need you to remember me so I can take that step beyond and set my spirit free.
I didn't want to go at first. I fought with all my might,but something seems to draw me now to a warm and loving light.
I want to go I really do, It is difficult for me to stay. I will try the best I can to be in your hearts everyday, So you can care for me and share your love and fears. I know your sad and afraid because I can see your tears.
I'll not be far I promise that and I hope you will always know, My spirit will be close to you wherever you may go.
Thank you so for loving me you know I love you too, Thats why it's hard to say goodbye and end this life with you.
So hold me now just one more time and let me hear you say because you care so much for me you'll let me go today,
May I go now?





Below are 2 other soldier that were KIA from the same unit as Spencer was in but not from the same incident.
Spc. Timothy Brown
, 23, of
Cedar Springs
,
Mich.
, died
Nov. 4, 2005
, when a land mine exploded beneath his Humvee in Habbaniyah. Relatives said he always wanted to be a soldier and joined the Guard largely because of the
Sept. 11, 2001
, terrorist attacks. He was scheduled for leave from
Iraq
in October but switched with another soldier who has children, relatives said.
Spc. Dane O. Carver
, 20, of
Freeport
,
Mich.
, died
Dec. 26, 2005
, in
Khalidiyah
,
Iraq
, when insurgents attacked his Humvee with small-arms fire. Relatives said he was engaged to be married and was proud of his work in
Iraq
.

Civilian life compared to Military deployment life


hit the snooze and sleep for another 10 minutes.

He stays up for days on end.
__________________________

You take a warm shower to help you wake up.

He goes days or weeks without running water.
__________________________

You complain of a "headache", and call in sick.

He gets shot at, as others are hit, and keeps moving forward.
__________________________

You put on your anti war/don't support the troops shirt, and go meet up with your friends.

He still fights for your right to wear that shirt.
__________________________

You make sure you're cell phone is in your pocket.

He clutches the cross hanging on his chain next to his dog tags.
__________________________

You talk trash on your "buddies" that aren't with you.

He knows he may not see some of his buddies again.

__________________________

You walk down the beach, staring at all the pretty girls.

He walks the streets, searching for insurgents and terrorists.
__________________________

You complain about how hot it is.

He wears his heavy gear, not daring to take off his helmet to wipe his brow.
__________________________

You go out to lunch, and complain because the restaurant got your order wrong.

He does not get to eat today.
__________________________

Your maid makes your bed and washes your clothes.

He wears the same things for months, but makes sure his weapons are clean.
__________________________

You go to the mall and get your hair redone.

He doesn't have time to brush his teeth today.
__________________________

You are angry because your class ran 5 minutes over.

He is told he will be held an extra 2 months.
__________________________


You call your girlfriend and set a date for that night.

He waits for the mail to see if there is a letter from home.
__________________________

You hug and kiss your girlfriend, like you do everyday.

He holds his letter close and smells his love's perfume.
__________________________

You roll your eyes as a baby cries.

He gets a letter with pictures of his new child, and wonders if they'll ever meet.
__________________________

You criticize your government, and say that war never solves anything.

He sees the innocent tortured and killed by their own government and remembers why he is fighting.
__________________________

You hear the jokes about the war, and make fun of the men like him.

He hears the gun fire and bombs.
__________________________

You see only what the media wants you to see.

He sees the bodies lying around him.
__________________________

You are asked to go to the store by your parents. You don't.

He does what he is told.
__________________________


You stay at home and watch TV.

He takes whatever time he is given to call and write home, sleep, and eat.
__________________________

You crawl into your bed, with down pillows, and try to get comfortable.

He crawls under a tank for shade and a 5 minute nap, only to be woken by gun fire.
__________________________

You sit there and judge him, saying the world is a worse place because of men like him.

If only there were more men like him

If you support your troops, repost this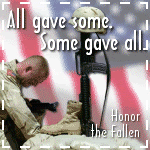 Memorial Tribute for SGT Spencer C. Akers
20051214, Camp Habbaniyah, Iraq


The chapel community is concluding its study of the Gospel According to John tonight. For 21 weeks we have studied together this most unique gospel. In the 20th chapter, John makes an interesting editorial comment. He says, essentially, that Jesus did many more things than are recorded in this book. And as a Christian minister, as someone who has laid to rest far too many, that idea resonates with me. Each and every time, I stand behind this sacred desk, I know that the one I am laying to rest, the one I am memorializing can not be adequately described by my short words. They have done far too much than could ever be highlighted in a sermon or eulogy. In Spencer's case, how can I take 35 years and whittle them down to a few minutes? His loves, his passions, his joys, his disappointments, his heartaches, his victories, the complexities of his heart, mind and soul. How do I capture the sometimes contradictory nature of his or any other individual's personality?

For example, SGT Akers was a very public personality jovial, comical and cantacerous yet he was also an intensely private man. At a paintball tournament one time, he entered a contest which involved eating non toxic paintballs. Whoever ate the most, would win a fancy brand new paintball gun. And Spencer started wolfing down those paint balls, in front of hundreds of people, as if they were cherry tomatoes. Green, blue, yellow and red, all the colors of the rainbow spurted from his bright smile as he held his new paint ball gun above his head for the cheering crowd. And yet, there were those other occasions, when like so many of us, he would only open up to a select and trusted companion to invite them to see deeper, to see beyond what everyone else saw. And it's not that these sides of his personality were antithetical or even hypocritical, they simply indicate the complexity of his personality.

Many of you know first hand what a vivacious, gregarious and spontaneous man he was. Some would describe him, accurately, as a party animal. And yet, in something I believe is very telling about his personality, how many of you know that when he moved into his new room in the barracks, a room he only had a chance to sleep in one night before he was wounded, how many of you know that the first two pictures he hung on his wall were of his father and mother? Sure, he worked as a professional bouncer, he was tough, strong and smart but he also had a soft heart of gold, that most precious of metals. That heart which so fiercely and intensely loved you, his parents, his son, also loved the United States. Like many of you, he did not have to be here. He volunteered. But unlike so many of you, before you came to this place, Spencer knew exactly what he was getting himself into since he had already earned his first combat patch in the Gulf War. He volunteered for that one too. But still, he came this his second time…to look after you, to take care of you, to protect you, to train with you and to be with you. He wouldn't have missed it for the world, even if it meant sacrificing some of his precious sleep or having to take his ball and glove to play catch up in the dusty ASP instead of the beautiful green ball fields of his beloved Traverse City.

The last book of the Bible, Revelation, was also written by John. In it, he makes a clear suggestion that endurance or perseverance brings victory, one conquers by holding on. And I have thought about that a lot since the day Spencer was wounded and how tenaciously he held on, fighting all the way, fighting until the very last.

And I believe SGT Akers would still be hanging in there, he was such a stubborn and determined man, he would still be fighting like SGT Weber, SGT Dreaskey and SPC Youman, except that in his unconscious state, I suspect that he was visited by the Jesus. In my mind's eye, they took walks together along beautiful scenic shorelines like those that surround Traverse City and after their walk Spencer would return to the room where he was surrounded by loved ones. Each day, the walks would get longer and their talks deeper, until one day, just as the sun was setting over the lake, Jesus turned to SGT Akers and said, "Spencer, we're closer to my home now. Why don't you come with me? I have prepared a room for you.

And so Spencer did. Like any good soldier, like every professional NCO, he was obedient, obedient to the very end.

Chaplain (MAJ) Douglas A. Etter
Task Force Panther
Panther 39